How to use Remo Micro
Improved yields. Bigger flowers. Better quality. Richer aromas.
Remo Micro nutrients are ideal for the whole growth cycle – giving you optimal flower and fruit development.
Some of the proven Remo Micro benefits include:
Healthier leaf growth & root development
Improved flower & fruit production
Stronger overall plant structure
Better resistance to stress
THE REMO MICRO DOSAGE AND HOW TO USE IT
Suitable for use throughout the entire growth cycle, start with Remo Micro in the vegetative stage and continue into flowering and fruiting.
During the vegetative and early flowering stages, we recommend using 2ml to 4ml per litre of water, usually once seedlings have established a few sets of leaves.
In the peak flowering and fruiting stages, you might want to increase the dosage to 4ml to 6ml per litre.
Continue using until harvest, but be cautious and adjust the Remo Micro dosage according to your specific type of plant and its growing conditions.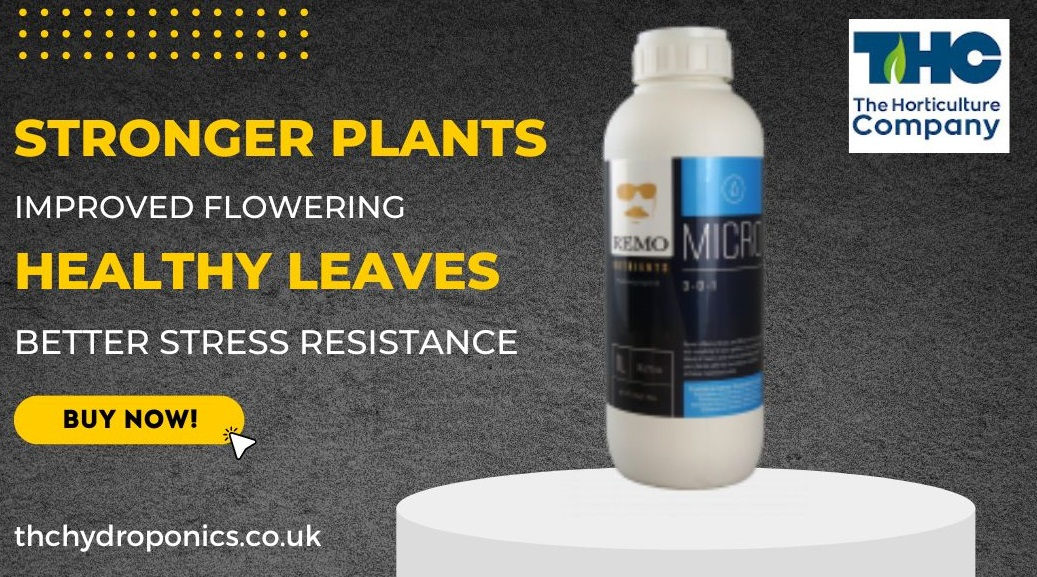 HOW REMO MICRO WORKS
When plants develop and grow, their structure undergoes a variety of metabolic processes – including enzyme activation, photosynthesis and hormone production. Remo Micro provides a balanced blend of micronutrients so your plants can carry out these processes efficiently.
By improving nutrient absorption, your grow will be healthier and enjoy added vitality. Plants will also be able to cope better with environmental stresses (heat, water, disease) and still enjoy optimal flower and fruit production.
THE REMO MICRO INGREDIENTS
Each of the Remo Micro nutrients are designed to enhance root development and leaf growth.
Although the exact composition of micronutrients may vary slightly, the common ingredients are iron (Fe), manganese (Mn), zinc (Zn), copper (Cu), boron (B) and molybdenum (Mo). Remo Micro also contains various chelating agents to improve the way in which your plants absorb nutrient, resulting in a more robust overall plant structure.
WHAT MEDIA CAN REMO MICRO BE USED WITH?
Remo Micro can be used with an indoor or outdoor grow and is suitable for various grow media – including soil, coco coir and hydroponic systems.
Available in a range of sizes, the Remo Micro 500ml bottle is a great way to get started with this handy nutrient booster for just £6.95. We also stock 1 litre and 5 litre Remo Micro bottles.
If you're already a regular user, or prefer to save money by ordering in bulk, buy a Remo Micro 10 litre bottle for £75.95 – making the price of a litre just under £7.60, a significant saving.