How to Use Remo Magnifical
Remo Magnifical is a nutrient designed to support cell division and elongation, making your grow stronger and healthier.
By improving your grow's chlorophyll production, Remo Magnifical enhances the photosynthesis process and gives your plants more energy to develop bigger leaves.
The proven benefits Remo Magnifical provides are:
Helps to absorb more nutrients
Evenly distributes nutrients in whole plant
Increases efficiency of photosynthesis
Supports cell division & elongation
Improves stress resistance
REMO MAGNIFICAL DOSAGE AND HOW TO USE
If you want great results, use this nutrient during the entire growth cycle.
But, as is the case with all nutrients, the Remo Magnifical dosage should be tailored to your specific crop and grow conditions.
During the vegetative stage, we would advise using 1-2 ml per litre of water.
For the flowering stage, slightly increase the Remo Magnifical dosage to 2-4 ml per litre.
Start to apply during early plant development, once your seedlings have established a few leaves, and continue to use until you are ready to harvest.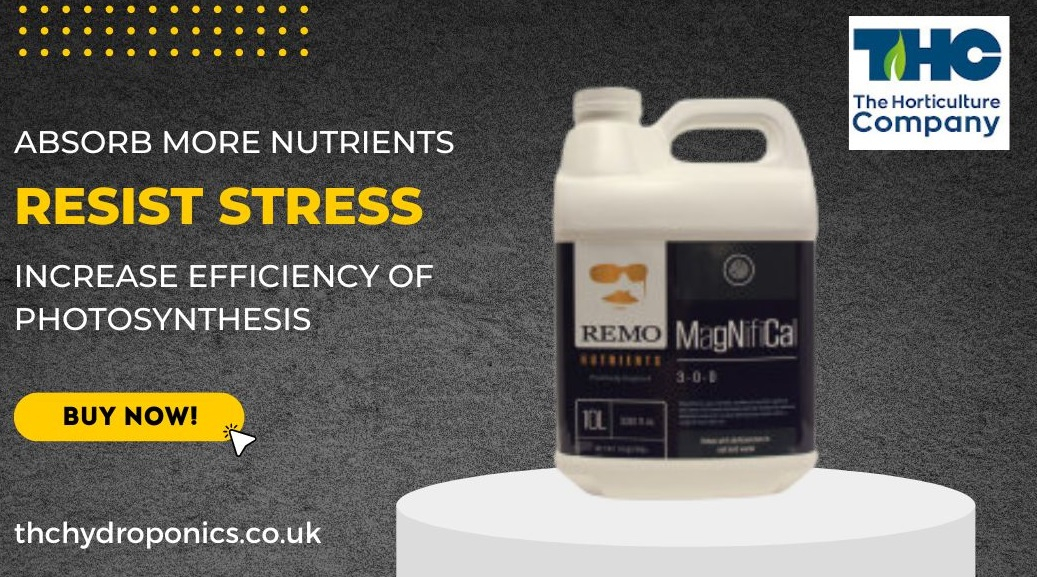 HOW REMO MAGNIFICAL WORKS
Plants need nutrients and minerals to develop and grow as big as possible.
Remo Magnifical provides all the essential minerals and organic compounds that your grow could ever need.
Packed with amino acids and organic acids to encourage nutrient absorption, they also help with photosynthesis, enzyme activation and by relocating nutrients through the whole plant structure. From root to tip.
By adding Remo Magnifical to your grow, you can benefit from improved nutrient uptake and cell division that will increase overall plant health. Stronger plants with bigger yields. What's not to love?
THE REMO MAGNIFICAL INGREDIENTS
Remo Magnifical contains a blend of essential minerals and organic ingredients, including magnesium (Mg), calcium (Ca), iron (Fe), manganese (Mn), zinc (Zn), copper (Cu), boron (B), molybdenum (Mo), amino and organic acids.
WHAT MEDIA CAN REMO MAGNIFICAL BE USED WITH?
Versatile and suitable for outdoor or indoor growing, Remo Magnifical can be used with a range of grow media, including soil, coco coir, peat moss and most hydroponic systems.
It is available in a variety of sizes, ranging from £6.95 for a 500ml and £12.95 for a 1 litre bottle to £44.95 for 5 litres. Or you can buy in bulk and save money by ordering a Remo Magnifical 10 litre – available for £77.95 (which works out at just £7.95 per litre) online today.