How to use Remo Grow
Remo Grow provides your grow with added support during the vegetative stage and sets them up for successful flowering and fruiting.
The proven benefits Remo Grow provides are:
Promotes strong and healthy root development
Maximises photosynthesis stage
Increases vegetative leaf growth
Improves uptake of nutrients
Enhance overall plant health
THE REMO GROW DOSAGE AND HOW TO USE IT
Designed for use in the vegetative stage, Remo Grow helps plants to develop bigger roots, stems and leaves.
As with all hydroponic nutrients, the Remo grow dosage depends on your crop type and its growth stage but we would recommend adding 2ml to 4 ml per litre of water.
Once your grow has established its first set of true leaves, you can use Remo Grow regularly and continue until the first stage of flowering.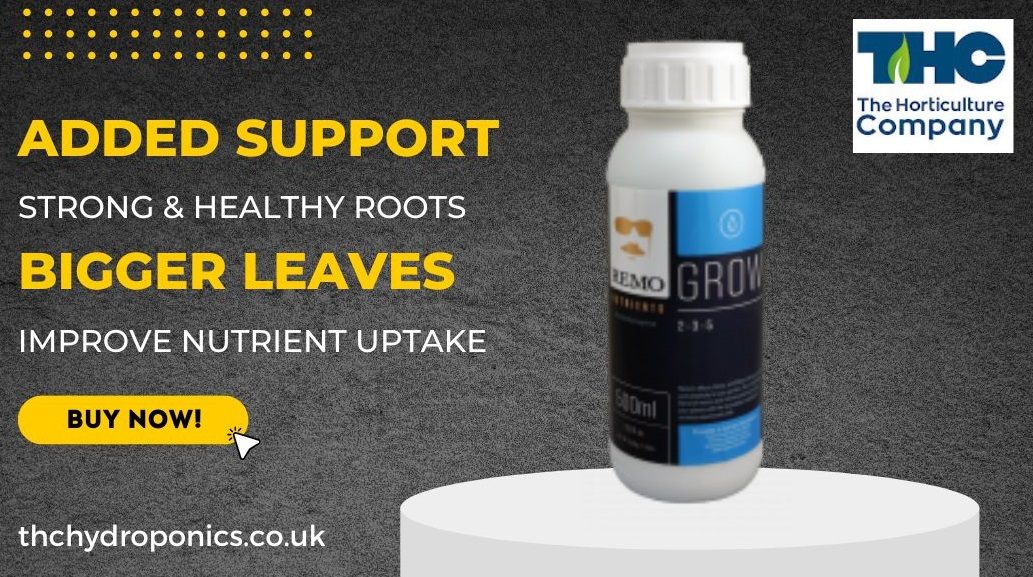 HOW REMO GROW WORKS
To enjoy vigorous growth, plants need certain essential building blocks so they can develop a healthy foundation on which to thrive.
Remo Grow is packed with a balanced blend of macro and micronutrients which promote strong and healthy root growth, allowing your plants to absorb nutrients and water more efficiently. This is essential if you want to enjoy vigorous vegetative growth.
Using Remo Grow provides your plants with nitrogen, phosphorus and potassium during this crucial stage – supporting their root development to make them stronger and promote larger leaf expansion. In turn, this will lead to an increase in lush foliage and optimal growth during the flowering and fruiting stages.
THE REMO GROW INGREDIENTS
The common Remo grow ingredients are nitrogen (N), phosphorus (P), potassium (K), calcium (Ca), magnesium (Mg), sulfur (S), iron (Fe), manganese (Mn), zinc (Zn), copper (Cu), boron (B), molybdenum (Mo). It also contains various amino acids and organic compounds to aid plant development.
This careful blend of nutrients supports chlorophyll production, promotes efficient photosynthesis and increase your plant's energy so that it can thrive and bloom.
WHAT MEDIA CAN REMO GROW BE USED WITH?
Suitable for indoor and outdoor use, Remo Grow can be used with a variety of grow media - including soil, coco coir and hydroponic systems.
Priced from just £5.95 for 500ml, you can also get Remo Grow in a 1 litre or 5 litre bottle online now. If you prefer to save money and buy in bulk, order a Remo Grow 10 litre bottle for £71.95 – which works out at just under £7.20 per litre, a great saving if you use it regularly.