How to use Dynomyco Mycorrhizal
If you want to experience stronger and bigger crops, you can't really go wrong with Dynomyco Mycorrhizal soil inoculant – a root booster that promotes improved plant health through the entire grow cycle.
The proven Dynomyco Mycorrhizal benefits include:
Increase nutrient uptake
Absorb more water
Improve plant health
Promote maximum growth
More resistant to disease
HOW DYNOMYCO MYCORRHIZAL WORKS
Dynomyco Mycorrhizal works by forming a beneficial relationship between the plant's roots and the mycorrhizal fungi they absorb, extending the reach of the roots and increasing the surface area available for nutrient absorption.
The fungi collect in the root system, creating a network of fine filaments (called mycelium), which extends the root network system and helps plants access water more efficiently, enhancing its nutrient and water absorption capabilities.
To summarise, using Dynomyco Mycorrhizal promotes overall plant health and growth because it improves the soil structure and reduces the need for synthetic fertilisers to be added when watering.
DYNOMYCO MYCORRHIZAL DOSAGE AND HOW TO USE IT
Dynomyco Mycorrhizal is suitable for use throughout the various growth stages, but is typically used when planting seeds, transplanting seedlings or if you're trying to establish new plants.
As is the case with most nutrients, the recommended Dynomyco Mycorrhizal dosage varies depending on crop type, its growing stage and your chosen media.
By introducing the Dynomyco Mycorrhizal fungi during the early stages of a plant's life, it can support growth and development throughout its full grow cycle. This leads to enhanced resistance against stress factors like drought, transplant shock, and soil-borne diseases.
As a general guideline, apply around 1-2 tablespoons (15 to 30g) per plant or 1-2 teaspoons (5 to 10g) for every 5 litres of soil or growing medium.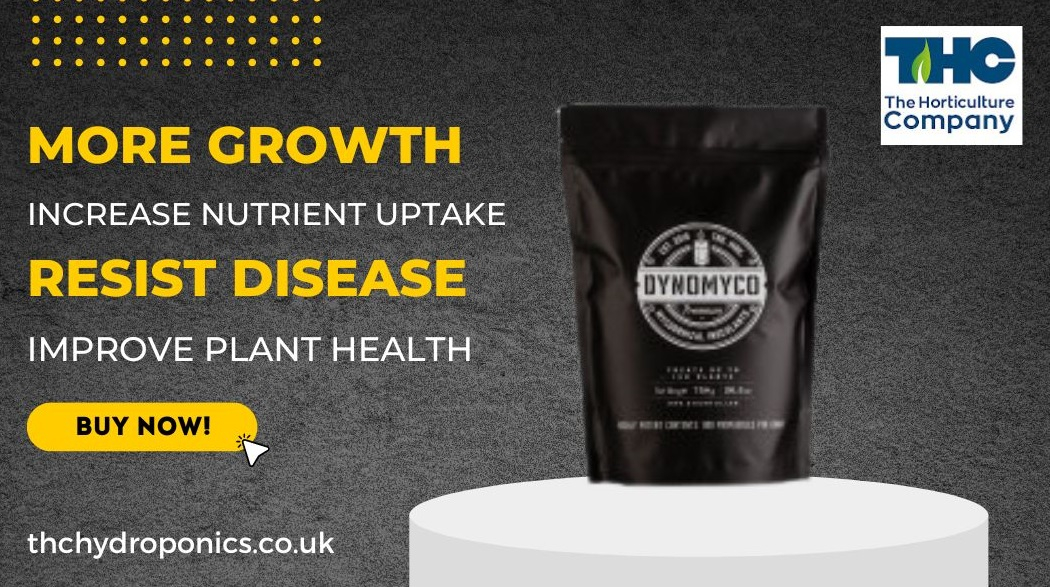 THE DYNOMYCO MYCORRHIZAL INGREDIENTS
As its name suggests, the primary Dynomyco Mycorrhizal ingredient is a blend of mycorrhizal fungi. Although the exact species and strains vary, they typically include beneficial fungi from the Glomus, Rhizophagus and other fungi in the same family.
WHAT MEDIA CAN DYNOMYCO MYCORRHIZAL BE USED WITH?
Suitable for both indoor and outdoor gardening, Dynomyco Mycorrhizal can be used with a wide range of different grow media – including soil, coco coir, peat moss and other soilless mediums.
Is mycorrhizae worth it? Ultimately, that depends on how quickly you want plants to become established, but mycorrhizae are proven to quickly boost healthy growth.
Available to buy in two sizes, a Dynomyco Mycorrhizae 100g pouch is priced £11.95 whilst a Dynomyco Mycorrhizae 750g bag costs £45.95 – order online from THC Hydroponics today!