How to use Cyco B1 Boost
Bigger leaves and better yields are easy to achieve when you use Cyco B1 Boost – a growth stimulant designed to improve root health and plant development.
The proven Cyco B1 Boost benefits are:
Improves roots & boosts growth
Creates bigger, healthier plants
Enhances nutrient uptake
Increases resistance to stress
CYCO B1 BOOST DOSAGE AND HOW TO USE IT
Cyco B1 Boost should be used during the early growth stages and throughout the vegetative and early flowering stages.
To get started and establish a healthy root system, we would recommend a Cyco B1 Boost dosage of 1-2 ml for every litre of water or nutrient solution. Add it to your nutrients or apply as a foliar spray.
This may be gradually increased if needed, but that depends on your crop type and plant growth stage. Continue to use until a couple of weeks before harvest.
HOW CYCO B1 BOOST WORKS
Cyco B1 Boost stimulates root development and improves the uptake of essential nutrients, vitamins and other bioactive compounds to promote healthy plant growth.
By helping to establish a robust and more efficient root system, plants can experience enhanced energy production so that they can grow quicker and stronger.
Regular use also means plants can withstand environmental stresses (drought, temperature fluctuations or transplant shock) and still thrive until the end of their growth cycle.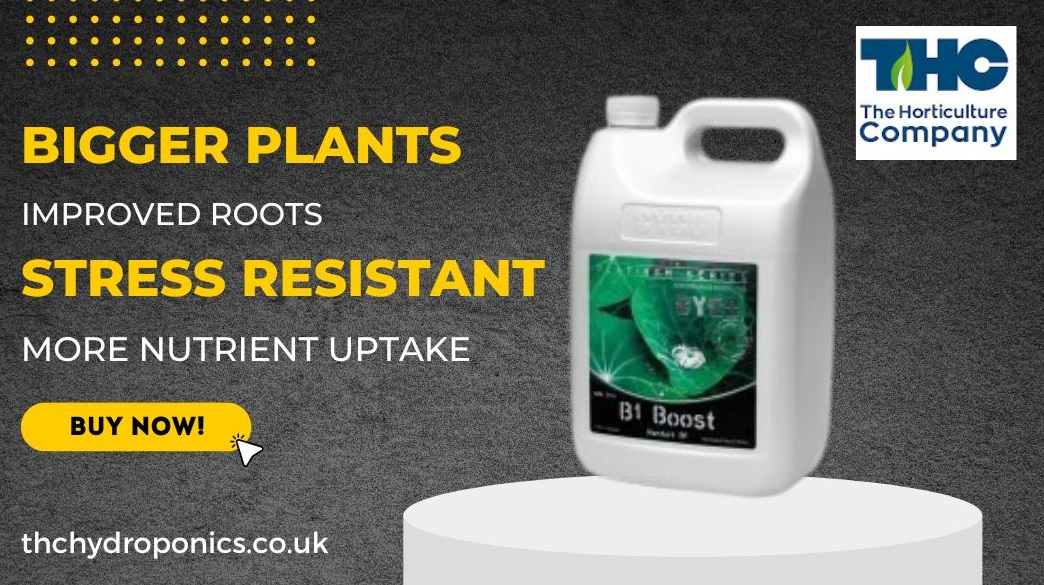 WHAT MEDIA CAN CYCO B1 BOOST BE USED WITH?
Available to order online, Cyco B1 Boost 1 Litre Flowering Nutrients is one of our top sellers as it is suitable for indoor and outdoor use. It works well with vegetables, flowers, ornamentals and herbs.
Made from a blend of vitamins, enzymes and natural plant extracts, Cyco B1 Boost is versatile and can be paired with most grow media – including soil, coco coir, peat moss and most hydroponic systems.