How to use Canna Cannazym
It's easy to boost the overall health of your plants with Canna Cannazym – an enzyme-based additive that's designed to improve nutrient absorption and deliver massive gains.
The proven Canna Cannazym benefits include:
Helps break down nutrients quicker
Improves nutrient uptake
Increases disease resistance
Boosts overall root health
HOW CANNA CANNAZYM WORKS
Made from a blend of powerful enzymes, Canna Cannazym works by breaking down organic matter to help stimulate microbial activity in the root zone.
Dead root material and organic residues from your grow medium are converted into nutrients which can be easily absorbed by plants. This enhances the uptake efficiency of nutrients and creates a healthier root environment, allowing your plants to thrive and be more resistant to disease.
CANNA CANNAZYM DOSAGE AND HOW TO USE IT
Perfect for a wide range of plants, Canna Cannazym can be used to boost vegetables, fruits and herbs.
Suitable from the seedling stage until harvest, we would recommend a Canna Cannazym dosage of 2ml for every litre of water or nutrient solution. Start as soon as roots first start to develop and add to your water or nutrient solution every time right up until two weeks before harvest.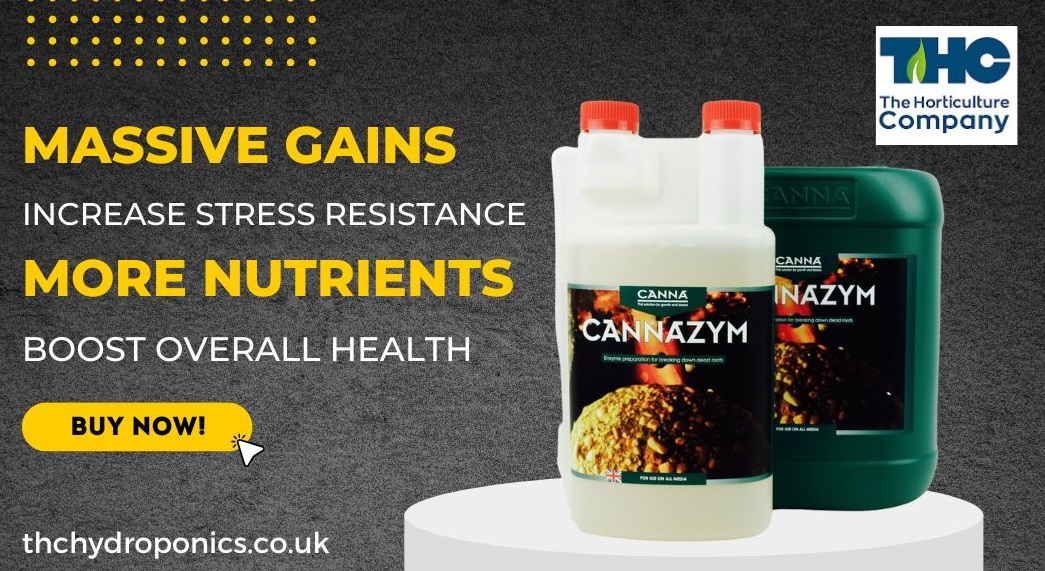 WHAT MEDIA CAN CANNA CANNAZYM BE USED WITH?
Cannazym can be paired with a variety of growing media, such as soil, coco coir, peat moss or hydroponic systems. It is suitable for use both indoors and outdoors.
Available in two sizes, you can get a Canna Cannazym 1L bottle for £16.96 or save money and buy in bulk with a Canna Cannazym 5L bottle for £74.95 – order from THC Hydroponics online now!